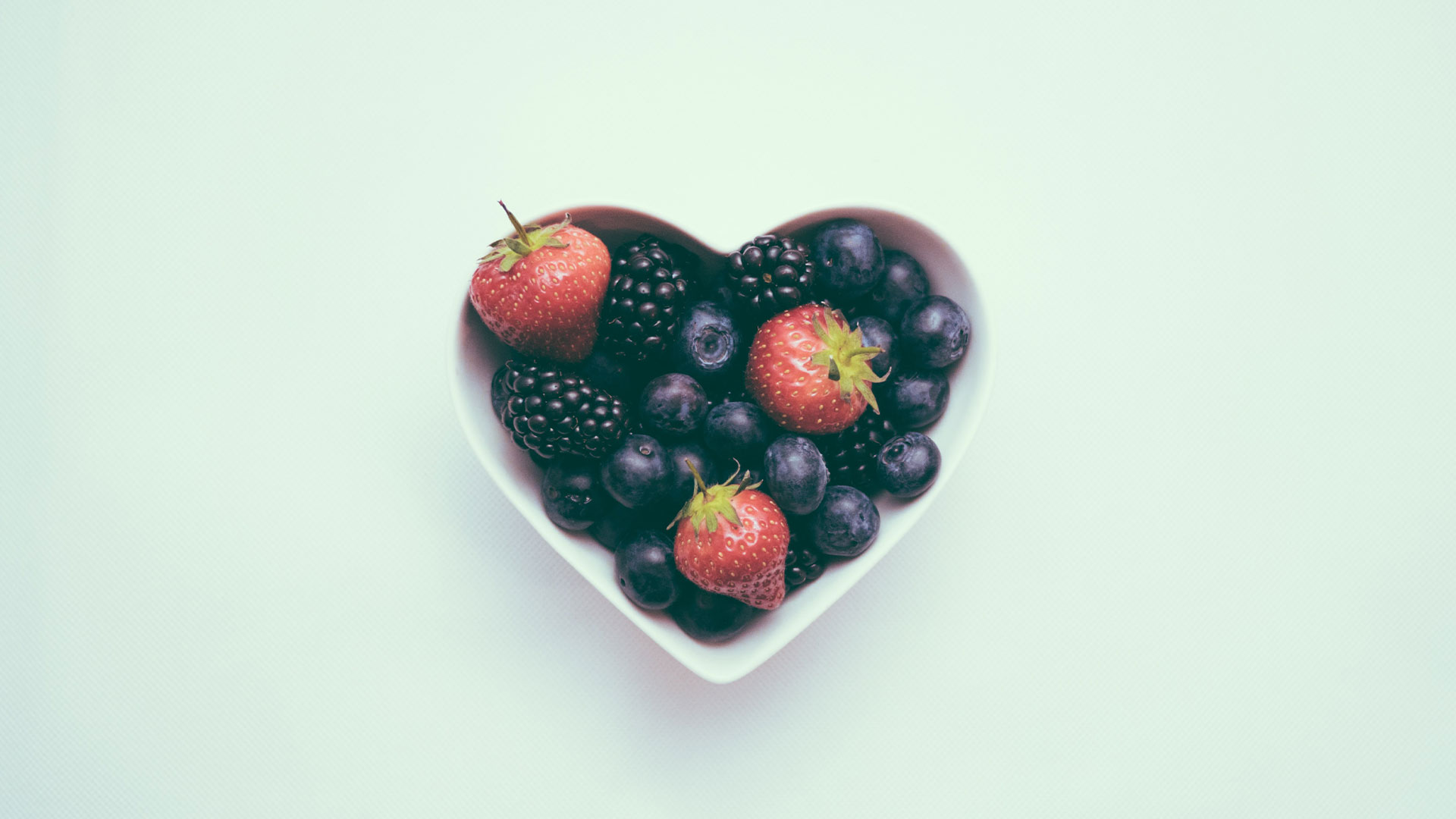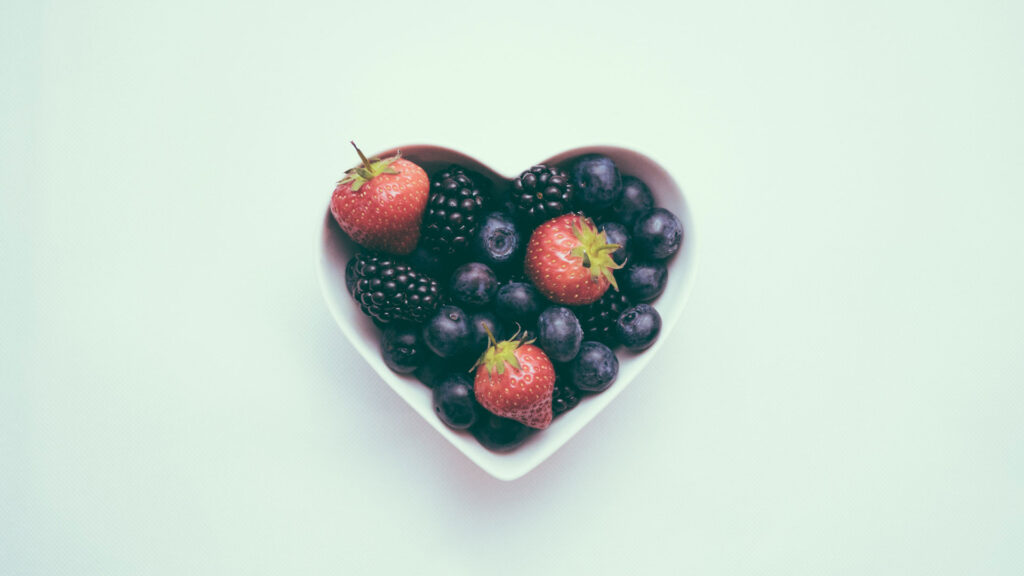 World Heart Day at Redwood
September 29 is World Heart Day! To celebrate, we asked our teams to tell us about the ways they've been staying active in the past few months, and why it's so important.
We've got runners, we've got hikers, we've got yogis, Zumba dancers, and more! Take a look.
---
Kayleigh Stays Active by Golfing
"I enjoy golfing because it is relaxing, a great family activity, the scenery is always beautiful, and it keeps me active. Sometimes I even skip the cart and walk the course!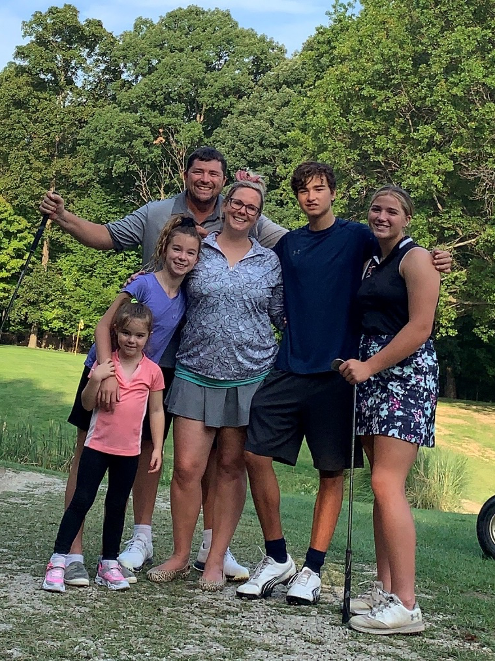 Staying active is important to me because it helps give me more energy. It's also great to set an example to my kids that an active lifestyle will keep you healthy and allow for great family time!"
Lori Celebrates World Heart Day with Variety
"I have to say, I definitely enjoy Rollerblading more than side-planking! 😊 The planking picture was taken on the boat dock at Pymatuning Lake over Labor Day weekend! Such a tranquil and beautiful place to be active – I couldn't resist!
I truly enjoy rollerblading because it takes me back to my younger years; makes me feel like a teenager again! It is a great cardio workout and I ride primarily in our Cleveland Metroparks which is just beautiful and, for the most part, flat land (which makes it much easier to ride).
This year more than ever I have really focused on staying active and living a much healthier lifestyle than ever before. I can say over these past 9 months I have seen a transformation! Something I never could say in the past. I continue to realize that life is short – do all you can to make the most of it! It is truly amazing how many aches and pains have gone away from my daily life due to just moving a bit more and watching what I eat. Take the challenge — a new and better you is waiting!"
September is Symbolic for Aryn's Health Journey
"I have been a non-competitive runner for almost 20 years now and I still finish with a "runner's high" each day. It's my favorite workout because I do my best thinking while I'm running. It helps to clear my mind and gives me time to think through all aspects of my professional and personal life.
Being the daughter of a football coach, staying active has always been an important of my life, however, the month of September and World Heart Day hold extra special meaning to me.
Over 11 years ago, I remember calling my pregnant friend Candie, when she was 20 weeks pregnant and excitedly asking her if she was having a boy or a girl. She started sobbing on the phone. That was the day they found out their son would be born with a heart defect.
A few months later, on Sept. 21, 2009, their son Jake, was born with a heart condition called Tetralogy of Fallot. Jake's first of four open heart surgeries was the day after he was born and he can expect to have at least one more open heart surgery before his 18th birthday.
His parents started a fundraising group called Team Jake in his honor and have raised thousands of dollars each year over the past 11 years donating 100% of the proceeds to the American Heart Association. I think about Jake and his resilience and positive outlook on life and am reminded how lucky I am that I can run and be active. I haven't taken that for granted since that fateful phone conversation 11 years ago."
Noelle Loves Lake Days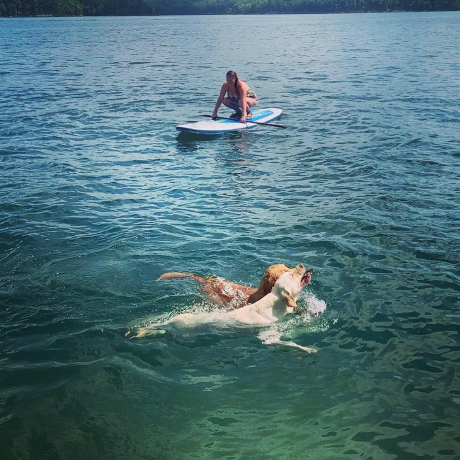 "I love being outdoors with the hubby and pups! There is something for everyone to do – pups swim, hubby kayaks, and I'm on the paddle board. Nothing feels better than the warm sun, lake air breeze, and getting the blood pumping!

Being active allows us to do activities as a family and keeps our adventurous spirit in check! It's important to stay active and healthy so you get more time to enjoy this wonderful life."
Hillary Hikes for Heart Day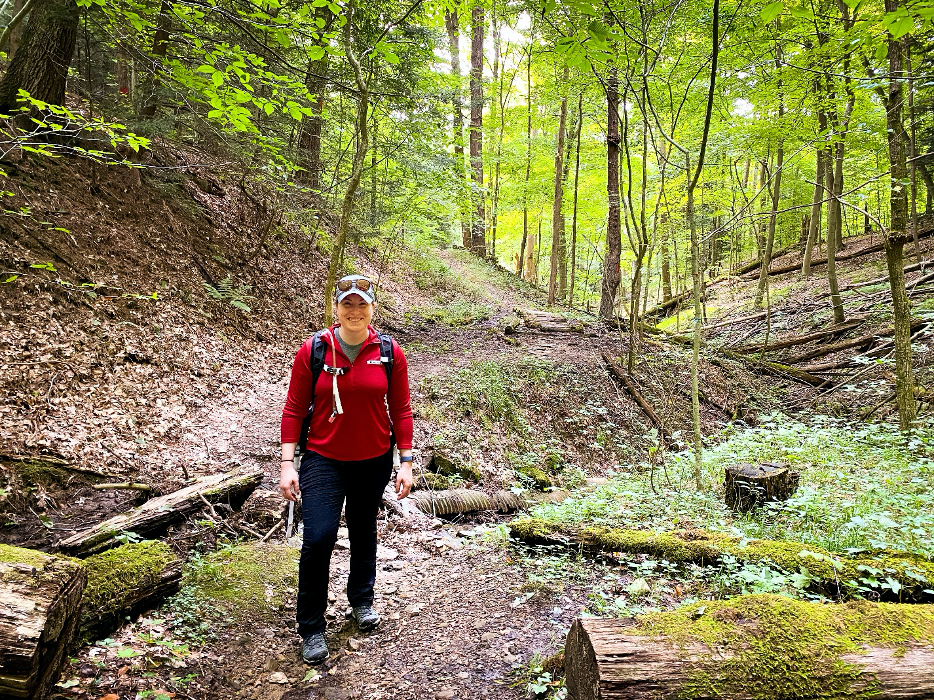 "I like staying active, but I have some past sports injuries that make running a no-go for me. But hiking is a great alternative! You still get a good workout while being out in nature and seeing the beauty of the parks. Living in Northeast Ohio, we have access to a TON of trails between the Metroparks, the Cuyahoga Valley National Park, and other state parks, so there's never a shortage of places to explore.
I like to stay active not just because it's good for me, but most of my hobbies require it. The better I take care of myself, the better I can perform my hobbies and the better I feel on a regular basis."
Tyleigh Runs to Challenge Herself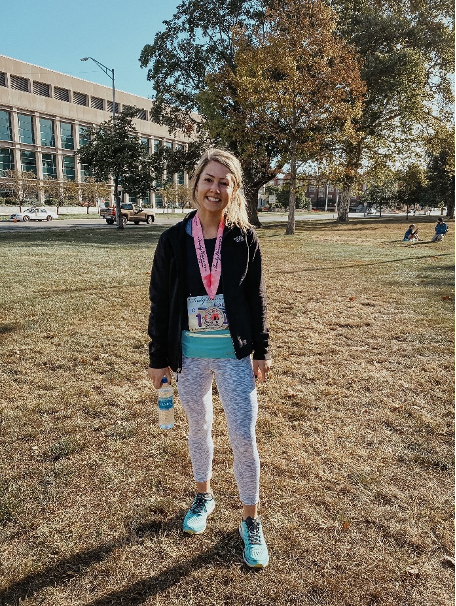 "I enjoy running because it is challenging for me. I've never considered myself someone who enjoys cardio over other forms of physical activity. But running, especially 13.1 miles, shows me with the proper training and motivation I can do anything if I put in the work!
Staying active is important to me because I feel better physically and mentally when I'm active and in good health."
Tracy Keeps Healthy with Zumba and Yoga
"I've been taking ZUMBA for 5+ years from the same gal. I love to dance. I love the music. It's exercise that doesn't feel like exercise! Our instructor did virtual classes all of April and May for FREE! She began charging a nominal fee for June and offered LIVESTREAM for a while. You can see white tape on the floor in the picture for socially distanced dancing!

I learned to LOVE Yoga last year when Redwood offered it at Corporate. I was thrilled to learn a new way to stay active and healthy. I joined Yoga6 when it opened in Macedonia this year right before COVID.

Now more than ever it is important to be as healthy an individual as you can be! As I "age" I'm finding I'm healthier now than I've been in a long time. I participate in Zumba 2-3 times/week and Yoga 2-3 times/week. They both offer different satisfaction for me and I see results!"
James Runs with a Buddy
"I love running trails with my pup. It's a great way for both us to get out of the house and unwind after a long day.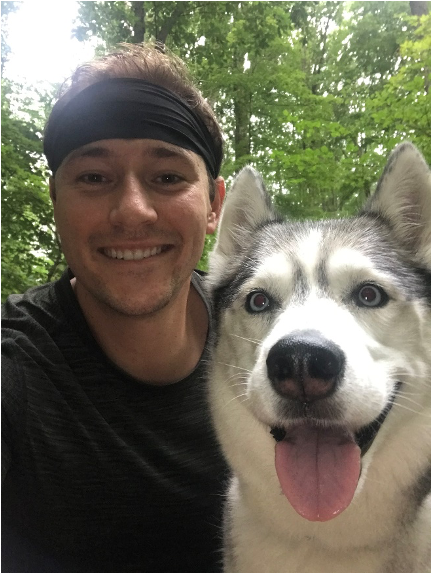 I feel so much better after a good run and the best part about running trails is you always seem to discover some place new which is always fun!"
Amalie Found Health Through CrossFit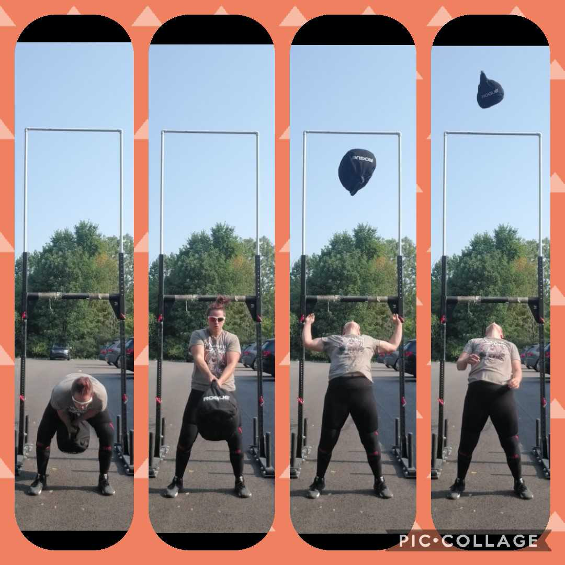 "Health and Wellness is very important to me, but it wasn't always a priority – here's why:
About 4 years ago, I found myself in my late 20's, out of shape, hypertensive, and showing an overall decline in health, and generally unhappy with how I felt about myself.
I made an entire life shift, joined a CrossFit gym, started caring about my nutrition, lost roughly 50 lbs. and got healthy for myself and my family. Now I've not only gained health and wellness, but I've found the competitive sport of Strongman.
I spend about 8-10 hours a week training in the gym – and roughly the same amount coaching people through group and individual classes.
It is truly a passion of mine, working hard, getting strong, having fun with it, and encouraging other to train this way. I have been competing in the sport of strongman for about 2 years now."
Amanda Hikes for Health, Fun & Family Time
"Being outdoors (whenever possible) and getting to be active is a match made in heaven for me! That's why I love hiking whenever I can. This picture was taken over Labor Day weekend at Whipp's Ledges in Hinckley, Ohio.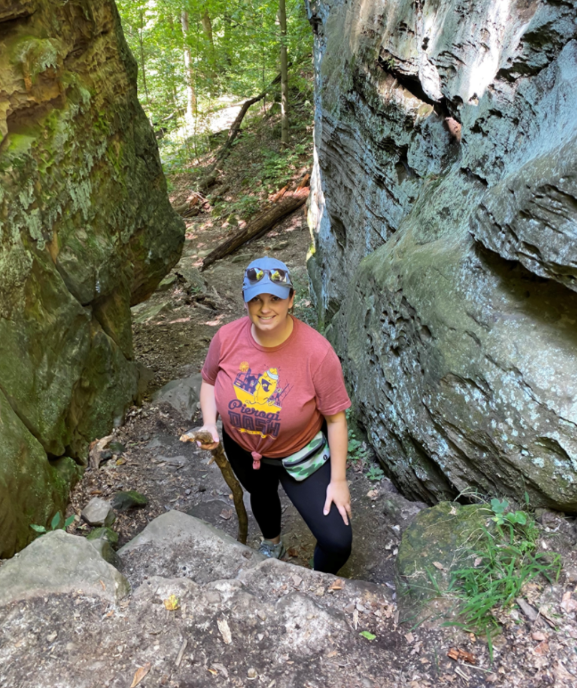 My dad and I spent the afternoon hiking through the several trails and terrain. Hiking is such a great way to see nature, spend time with family and friends, and get your heart racing. If you haven't been to Whipp's Ledges, I highly recommend it!

Staying active is important to me because I want to live a long and healthy life with the people that I care about. Plus, I love how I feel after a good workout!"
---
We love that our Redwood Ambassadors are taking steps to be healthy and take care of their heart health!
To read more articles, click here.
Want to know more about Redwood? Check out our website.