Best Apartment Rental Outdoor Amenities
When it comes time to rent a new home, the first area you survey is the interior. After you've checked out the large bright bedrooms, granite countertops, and stainless-steel appliances in the kitchen, what might sway you to select a place? Today's best outdoor apartment amenities are becoming a deciding factor, especially in luxury buildings and rental communities.
Redwood rental communities strive to provide several outdoor features to our clients. Let's take a closer look at some of the best apartment rental outdoor amenities that make a place more attractive.
1. Personal Patios
Whether you're sipping coffee and watching the sunrise or barbecuing with friends, a personal patio is a huge perk. When it comes to rentals, one of the downsides residents worry about is losing space or privacy. Sharing hallways, elevators, and parking lots isn't so bad if there's an outdoor space to call your own.
When selecting a rental with a patio, consider the following:
Proximity to the next patio: When you're on your patio to see the sun crest above the treetops, you don't want your neighbor to turn right and see you in your bathrobe. Closeness to the next patio dictates how "private" it is.
Privacy partitions: Even if your patio is close to a neighbor, you can retain privacy if your building offers partitions. Having a wall between patios provides the illusion that you're alone, even if your neighbor is seated feet away.
Allowances for property used outdoors: Personal patios are fabulous, but some have restrictions. Ask your property manager if they allow barbeques, plants, and sweeping. Be sure to optimize your patio space. This might sound funny, but if you're living in a multi-level building, sweeping could send dust onto a neighbor's patio.
Redwood supplies all single-level homes, complete with garages, private entrances, and personal patios. We understand the need for a space to call your own.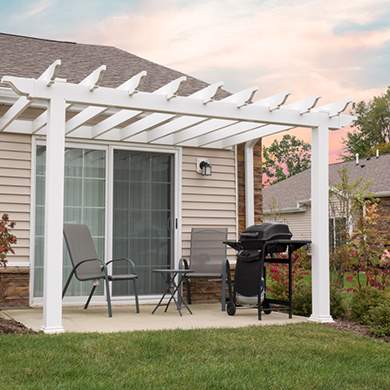 2. Walking and Running Trails
Nature and exercise are both important for health and well-being. When a homeowner chooses a house, they consider location, nearby parks, trails, and more. When you rent, you should consider the same. Some rental properties provide walking and running trails on-site. This is one of the best apartment rental outdoor amenities, and it's an excellent way to stay fit year-round and reap the benefits of fresh air.
If your building doesn't have one on-site, you can still enjoy a public walking trail. Visit the location of the rental building you're thinking about and see for yourself what's available nearby.
3. Space for Plants and Gardens
In the past, property managers allowed a hanging basket or two, but gardening was minimal. Now, with so many choosing rental communities as their permanent place of residence, a call for gardening has gone out, and management listened. Many new and luxury rentals now supply residents with a way to putter in the garden. If not your own yard, then in a community plot. Flowers, vegetables, fruit, and more can be planted and shared during community events.
4. Dog Areas
Man's best friend has become a popular companion, and rental managers have taken notice. Gone are the days when all rentals declared, "no pets allowed!" More and more buildings are not only making allowances for pets but inviting pet owners to become residents. One of the best apartment rental outdoor amenities is dog areas or private dog parks. These pet-friendly spaces are built onto the rental property, making it easy for residents to stroll with their dogs, meet other pet owners, play fetch, and more.
Some of these pet areas are even equipped with water dishes and off-leash space. Perfect for a playdate with your favorite pooch, Redwood is a pet-friendly environment. We allow our residents to have up to three pets living with them at any time.
5. Bike Paths
Walking and hiking aren't the only paths in demand. Many renters are seeking bike paths to stay fit and explore their environments. Bike paths are a necessity because of the insecurity many walkers feel when bikes are sharing paths with them. Having separate paths or specified times of day for biking keeps everyone happy without restricting an activity.
Alternatively, some rental spaces are now including outdoor exercise equipment, including stationary bikes and elliptical trainers. These provide an excellent workout, and you can still enjoy the sunshine.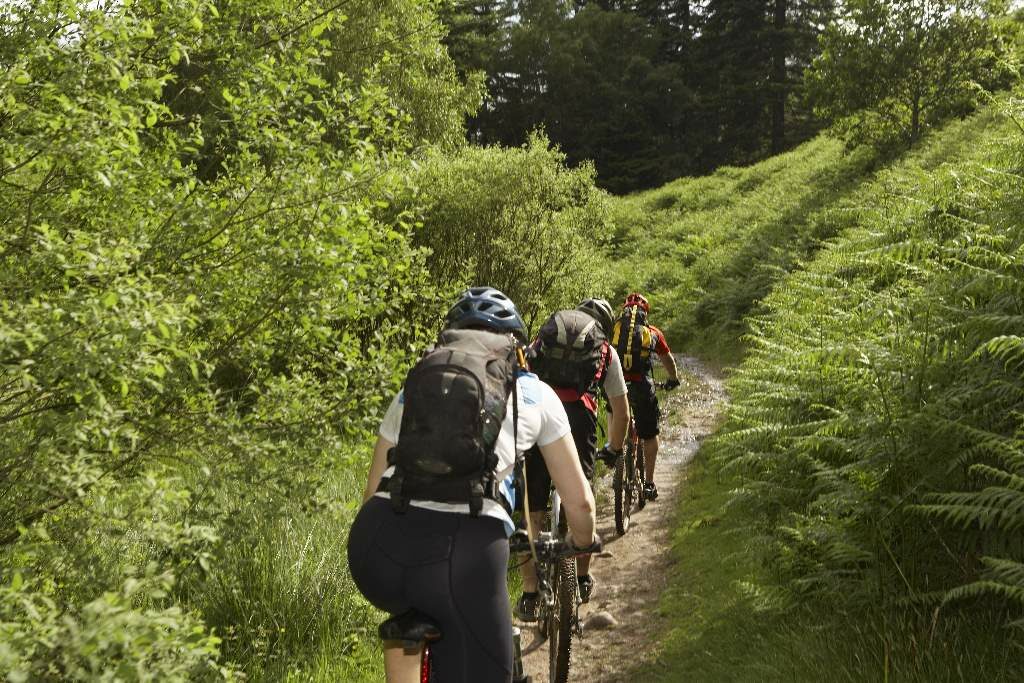 6. Close to Shopping and Dining
It's not something you do on-site, but it counts as an external amenity because it revolves around the space just outside your rental. Shopping and dining are a huge attraction for all ages. Whether you're hitting the mall with friends or spending a night on the town with your spouse, choosing a rental close to businesses and attractions is important.
Before renting a space, be sure to visit or at least perform an online search of the location. Take a walk with Google through the neighborhood and see how far restaurants, bars, malls, and shops are.
7. Community Events
One of the best apartment rental outdoor amenities is community events. This offers a chance to get to know your neighbors, participate in your community, and enjoy yourself. Community events come in all shapes and sizes, including birthday parties, summer barbeques, holiday events, book clubs, social groups, and more.
Your rental community might choose to communicate by email or by bulletin board at the main rental office. Look around to see what types of events are happening in your area, and don't be shy. If there's something you want to experience which you don't see, suggest they include it.
Learn More About Outdoor Amenities With Redwood Living
If you are thinking of renting and want to know more about outdoor features, give us a call. Come discover the Redwood Advantage apartment rental community and home amenities.