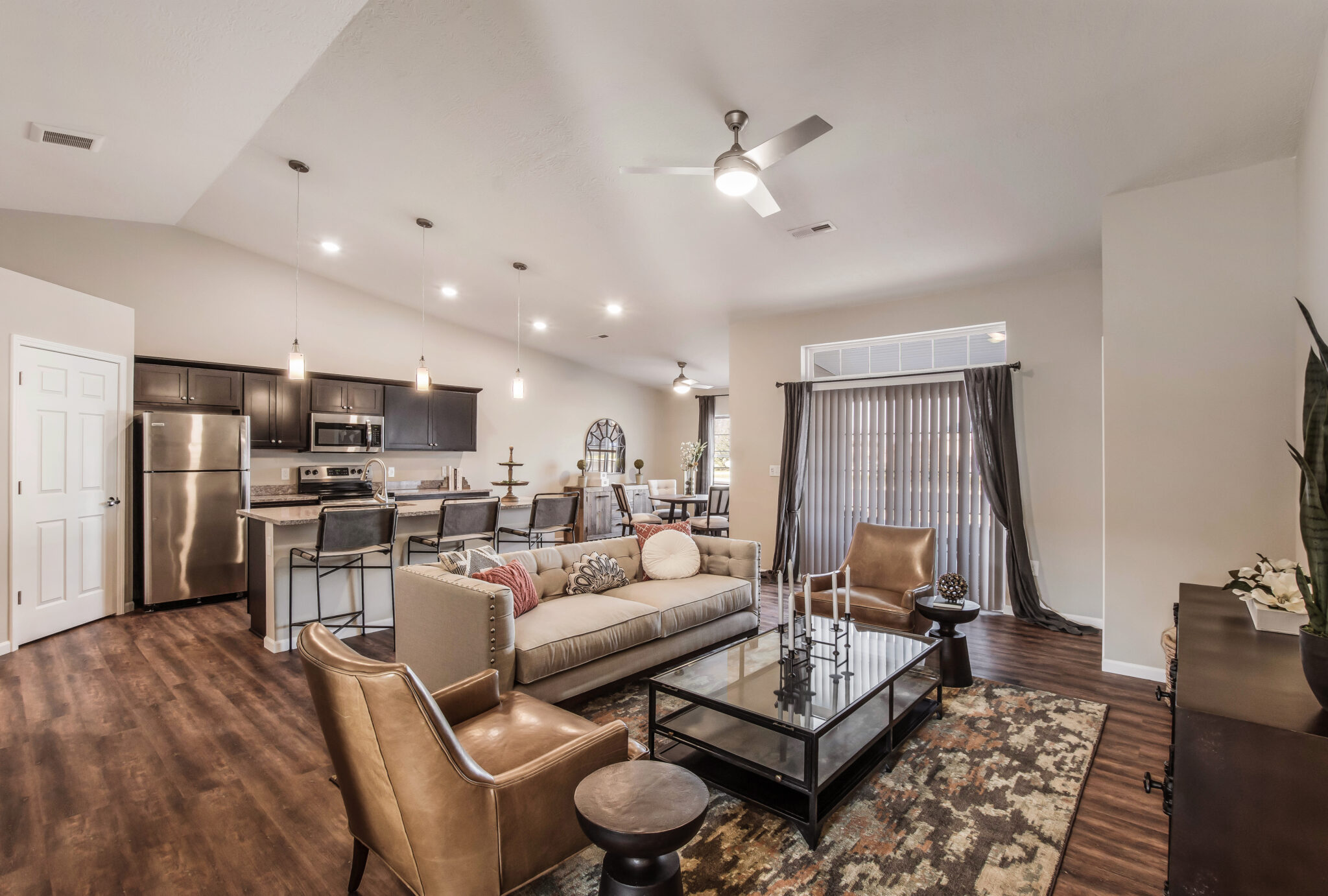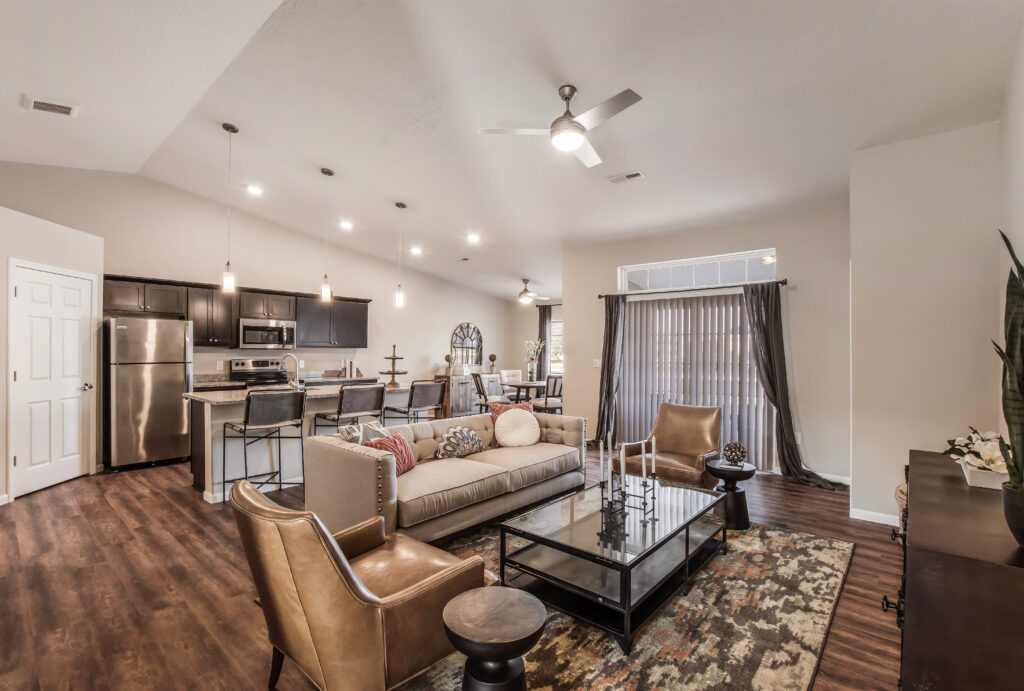 5 Ways You Can Benefit from a Single-Story Apartment Home
When deciding where to rent, you're going to have plenty of options to choose from—including high-rise, multi-level, and other styles of apartments. With rentals that have multiple levels, there's a good chance you're going to have to deal with noisy neighbors above and below you and navigate frustrating stairwells. However, renting at Redwood means you'll have a home free of these common problems that come with multi-story homes.
But how can Redwood help you enjoy the advantages of single-story living?
1 – You Won't Ever Have to Deal with Frustrating Stairs
Are you tired of trying to carry all your groceries upstairs? Or navigating a difficult stairwell with the new sofa you picked up? At Redwood, our apartment rentals are all on one level, which means you can go right from your car to your home. No more planning out how to manage wet stairs in the rain or snow. This even means you will no longer have to carry your laundry downstairs, with your washer and dryer all on the main level.
2 – An Attached Garage Means Never Walking Outside in the Elements
When you rent an apartment, it's common to have to deal with crowded parking lots, carports a long way from your home, or even street parking. At Redwood, you won't ever have to worry about finding a place to park or worry about running through the rain with your groceries.
Plus, a Redwood attached garage has room for all the storage you need. When the seasons change, you can store all your seasonal décor in a place that won't take up room in your home.
3 – Open Concept Designs in All Our Floor Plans
At Redwood, not only do our single-story floor plans offer an easily navigable living space, they also come with open-concept designs. This maximizes every inch of your home and gives you more room to enjoy! Plus, an open-concept kitchen and living space are ideal for entertaining guests, with plenty of room for everyone you invite over.
Our signature floor plans also provide the flexibility to create a space normally not available with less space—like a reading nook or a yoga space.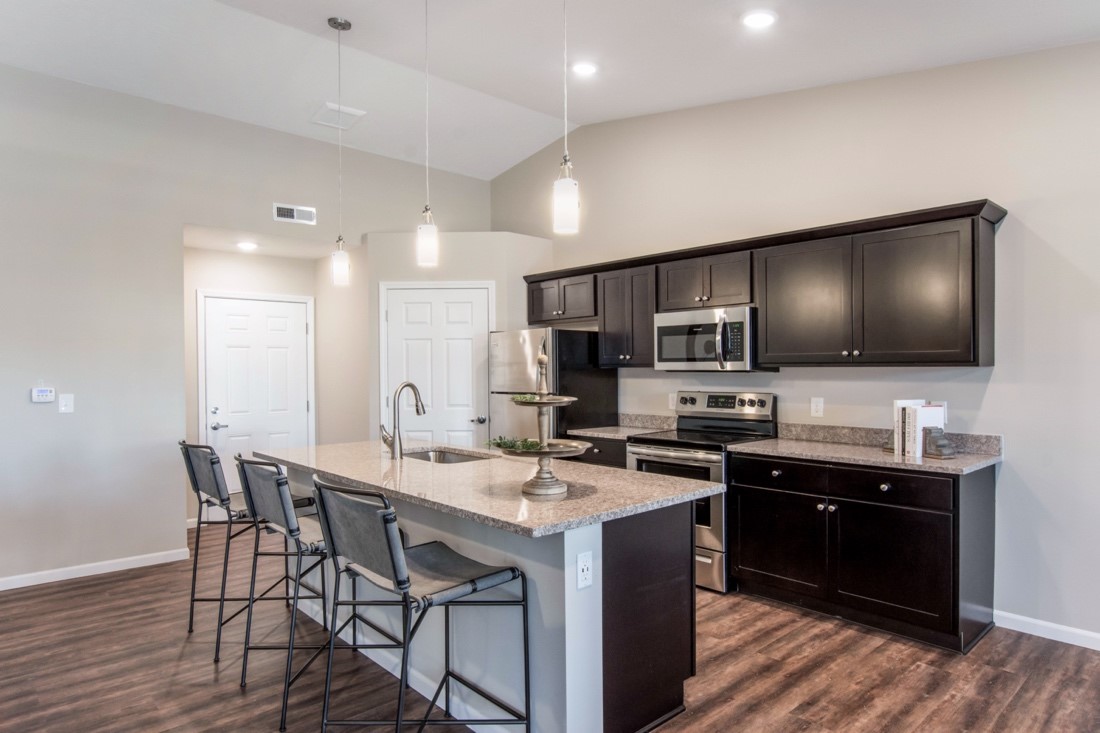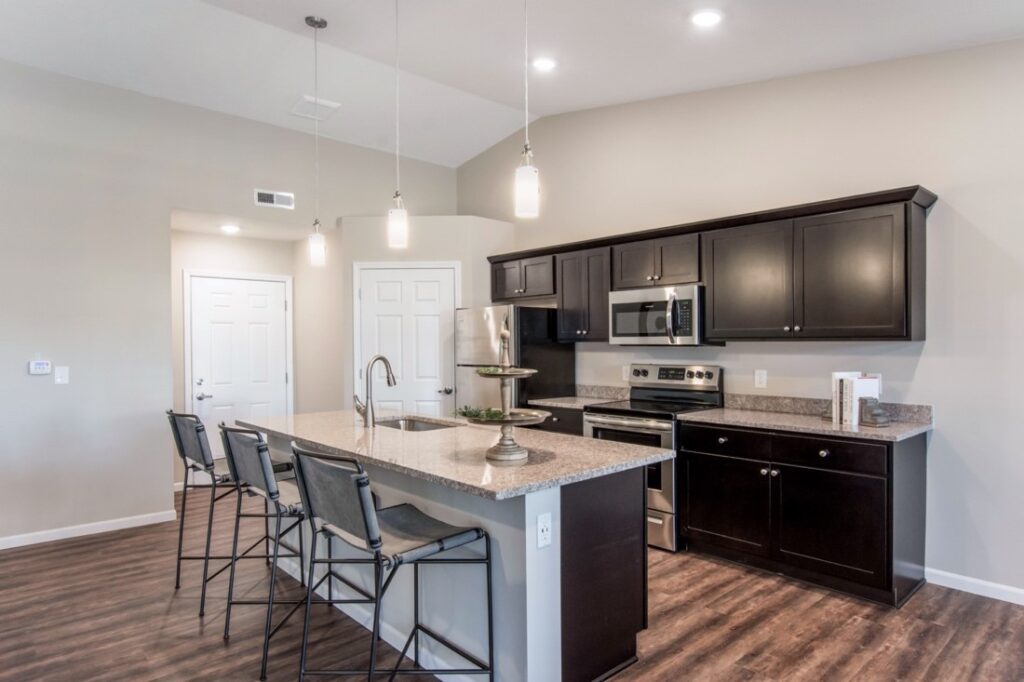 4 – You'll Never Have Noisy Neighbors Above or Below You
When you come home from a long day, the last thing you'll want to deal with is noisy neighbors. Renting at Redwood gives you the ideal place to unwind. You'll never have other residents above or below you, and the double-insulated walls cut down on outside noise. Plus, our single-story homes have vaulted ceilings—an amenity that is hard to find.
5 – Energy Savings Due to Our Floor Plan's Efficient Design
Besides the obvious reasons to consider single-story living, our floor plans can also save you money in your budget.
Single-story layouts are often more energy efficient, especially in areas of the country that get especially hot or cold. Since your heating and cooling won't have to battle to get to an upstairs location, these systems will have to work less, saving you money.
---
If you're looking for an apartment, but don't want to deal with common multi-level apartment complaints, then our single-story floor plans are perfect for you. Our signature floor plans' amenities are ideal for anyone wanting to avoid stairwells and noisy neighbors, while living in a remarkable home.
Find a Redwood Neighborhood today! And after you do, follow the Redwood blog for the best ways to decorate your new home.